U-Haul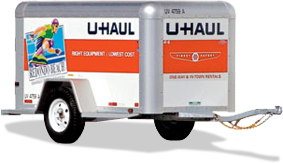 The right equipment the right price and friendly service 
Doing our best to bring value to Kings Mountain we thought U-haul was the perfect fit, you know in our youth we loaded everything up on pickup trucks filled cars and went down the road praying nothing feel off and complained about moving and having to buy beer for all of the people that helped. Things change as we got older we realized that the right equipment was a much better option, knowing the truck needs to be clean dependable and someone elses problem if it breaks down. We do that and so much more.
26 foot box

20 foot box 

17 foot box

15 foot obx 

10 foot box 

Cargo Van


Pickup Truck

 



Multisized enclosed trailers 




Multisized open trailers




specialty motorcycle trailer




autotransport trailers 




tow dollys 

​

Ramp Trailers

 

​Tow bars 



  So the U-haul statement "the right equipment at the right price" is not just a cute little tag line, we have the equipement you need and the price to fit any budget. 
Did you think that truck rentals was all uhaul had to offer?
So did but there is so much more than that. 
Are you dreading packing? Let us do that for you.

Worried about loading? Let us do that for you.

Not interested in driving a moving van? We understand and can drive for you.




Unloading is not appealing to you? Our guys will take great care with your items

Time preventing you from unpacking? We will be glad to do that to.



 Sometimes we face strange situations in life where things need to be packed up and stored for awhile, we have a family of storage centers across the country to help no matter what you are facing. U-haul has a ubox program where we can bring you a storage box you fill it up we pick it up and your done. Of course U-haul offers a full self service industry so you can do all of these things on your own, but lets face it most of the time 24 hours in a day is never enough. 
 All it takes is one call to Kings Mountain Country Corner 704-750-3323 from anywhere in the country and we can help you from a reservation to a complete move. We are open 9 to 5 Monday Thru Friday and 7 til noon on Saturday to help you with whatever you require and our business is a Customer Service Industry so you know you will be treated with respect.
If you need to set everything up while we are not open its easy online t, go to uhaul.com and movinghelp.com and you can do it all online as well.